4 brillant LED – 4 brillant Luminaires
Last year's launch of the Q Four luminaires has significantly expanded the scope for architects and lighting designers: With the Q-Series, Cubic and Frame luminaires, Nimbus has already created a broad repertoire for different general lighting requirements. The Q Four is an absolute novelty in this series, because for the first time the light is focused specifically on the area to be illuminated. The result is a powerful spot with brilliant, glare-free light that can be used to accentuate individual furnishings and to create zones in rooms. Planners can now draw on a comprehensive lighting construction kit that speaks the same design language: all the luminaires have the same basic dimensions and the same formal appearance. Only in this way can a uniform lighting design be realised across several rooms.
You must accept Youtube cookies in order to play embedded videos on this site. If you accept these, you will be accessing third party content from YouTube.
Nimbus Privacy Policy
Q FOUR family
Q FOUR
Lght From an Invisible Source
Compact, powerful and brilliant: The Q Four ceiling luminaire is a rich downlight that shines at a beam angle of either 40° or 80°. Thanks to Bartenbach lenses, its powerful lighting effect unfolds completely glare-free exclusively on the surface to be illuminated. Available in classic black or white for all areas in the home, office and gastronomy where directional light is required.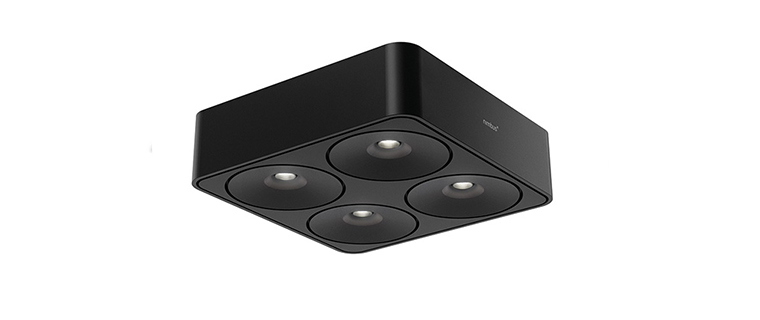 Q FOUR TT
Head Turner
The Q Four TT is an artist of flexibility: the elegantly shaped rotating and tilting arm creates a formal and functional connection between the luminaire head and the ceiling housing. The directional light of the Q Four TT can thus be optimally positioned - perfect for an accentuated wall illumination with a defined light pattern. Available as a surface-mounted or recessed version, the compact and minimalist design of the luminaire complements any given room without having the focus put on it. Equipped with Bartenbach lenses, the spot offers excellent light quality and is glare-free.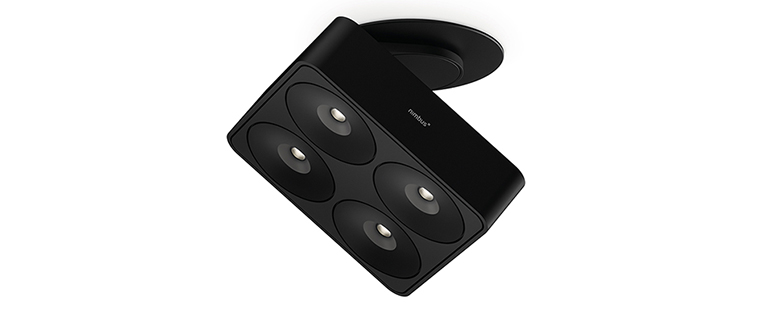 Q FOUR IN
Minimalism in Perfection
In connection with the Q Four, Nimbus likes to speak of "invisible light", because the light source as such is hardly noticeable. The light effect and brightness unfolds only on the surface to be illuminated. We are proud of the noble minimalist design of our luminaires, even though our goal is to integrate this luminaire family into rooms as invisibly as possible. The Q Four IN achieves this goal with ease: the luminaire body disappears in line with the ceiling, leaving no room for distraction from the brilliant lighting effect.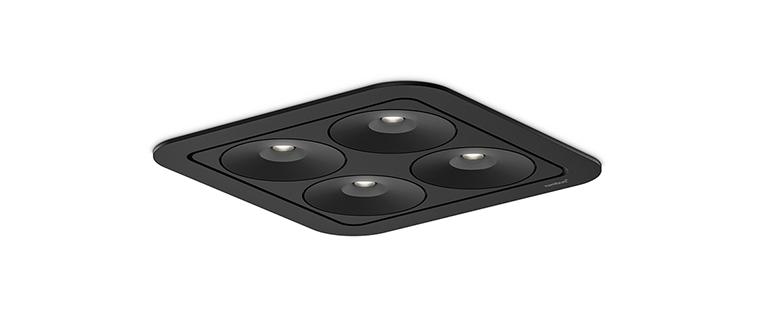 Q FOUR TT TRACK
Freedom for Individual Aarrangement
Typically, flexibility has to be bought at the price of far fewer lighting design options. Not so with the Q Four TT Track: a track system combined with our high-quality Q Four luminaires provides high-quality light in every application scenario. Museums, galleries and shops can redirect their light again and again to create scenes - without having to worry about ballasts or power outlets. Maximum flexibility and maximum lighting aesthetics come together - that is the Q Four TT Track.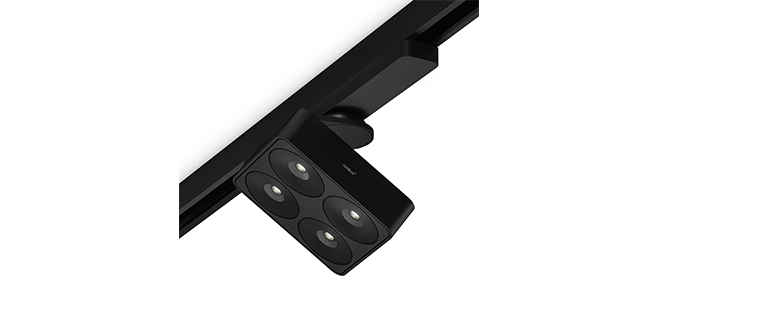 Light From an Invisible Source
Light only where it is needed, without disturbing stray light, without brightening the ceiling - this is how rooms can be designed and staged. Four high-power LEDs with precision lenses in a high-quality aluminium housing cast their focused, warm light onto the desired surface and generate brightness where it is needed. Perfectly glare-free, the luminaire bodies remain almost invisible and allow the light to shine from the off. All the more surprising is the intensity and power of the light when it hits surfaces and impresses with its warmth and homeliness.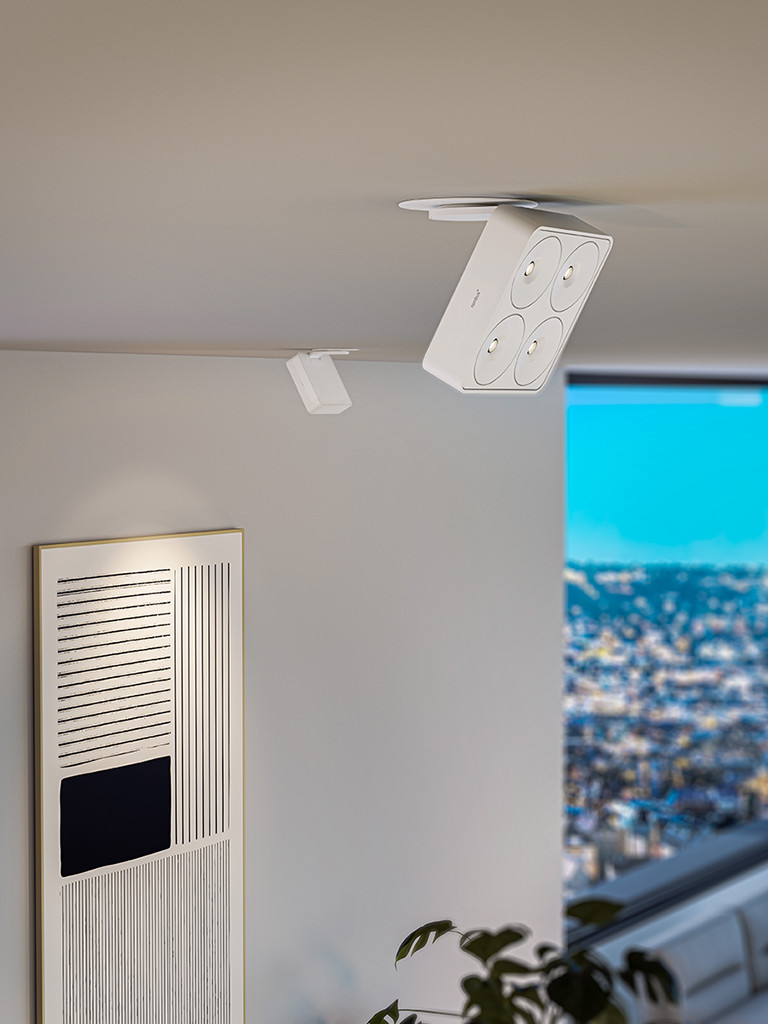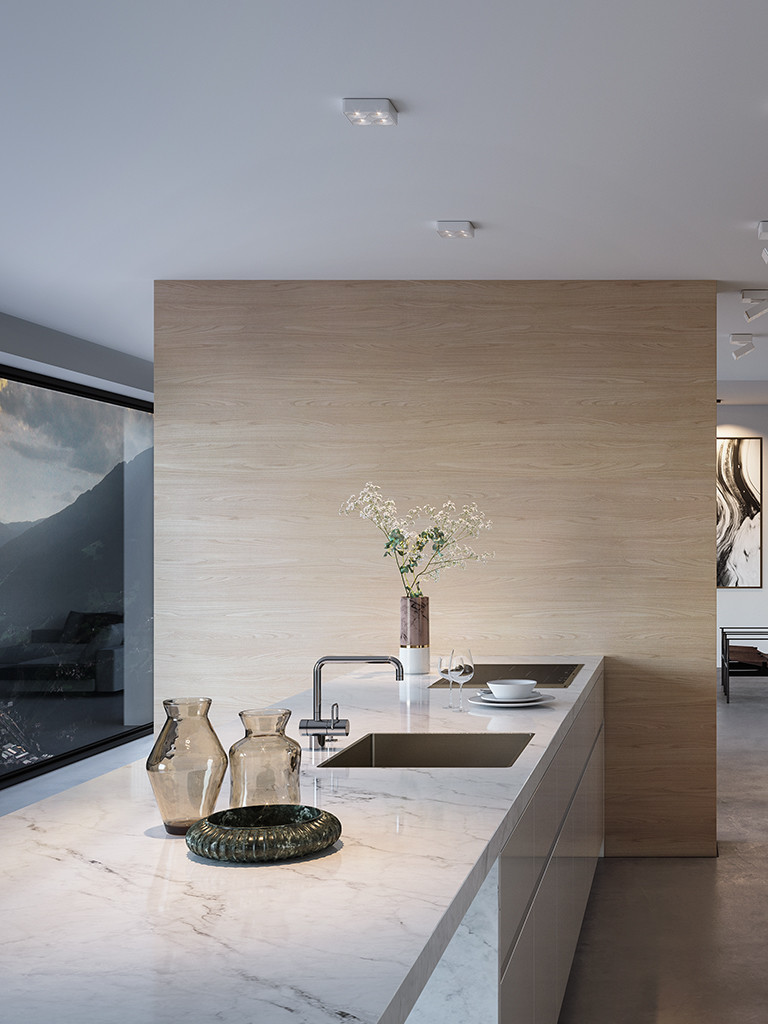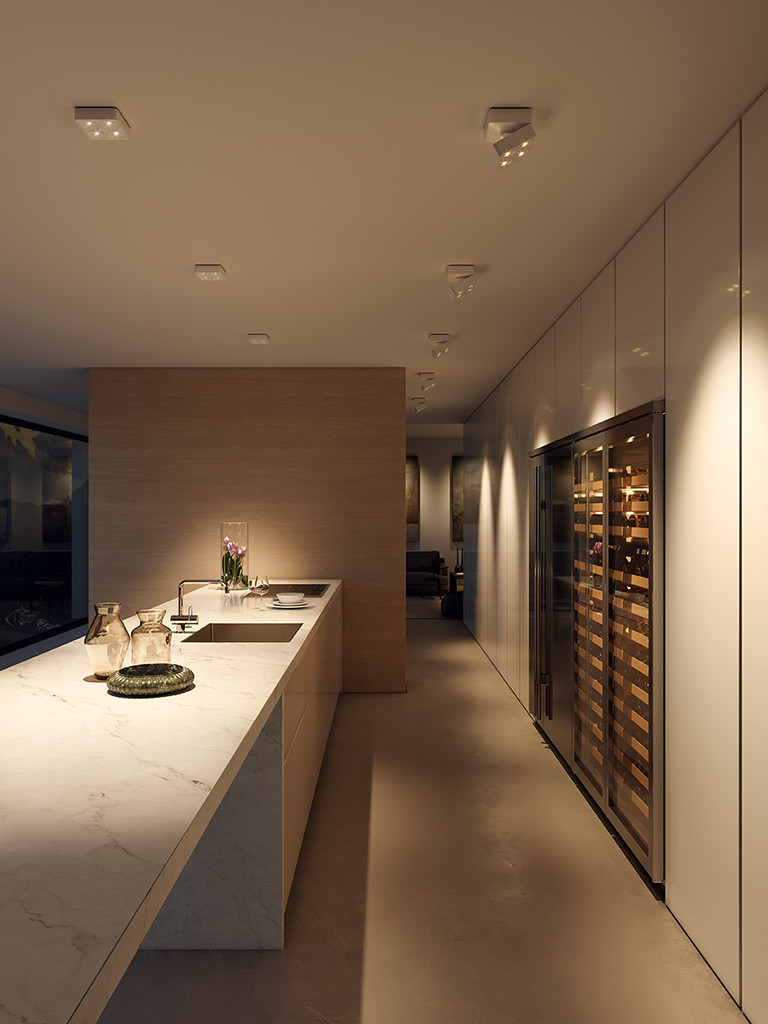 No Glare, No Mirroring
Contemporary architecture is characterised by open rooms, often with large window surfaces. These allow a large amount of daylight into the interior and have the visual effect of opening up the room.
This effect is reversed in the dark and the windows become mirrors, thus making the room appear smaller. At least that is the case with conventional lighting concepts using diffuse light distribution. Focused light from the Q FOUR retains transparency and visual openness. From dusk and throughout the evening until night-time. No more sense of confinement due to mirroring surfaces; the view and spatial openness are retained. But viewed from the outside, this precisely focused type of lighting considerably reduces the insight into your living area. Even with open curtains you don't feel kind of being on show - thanks to the anti-glare lighting of the Q FOUR.
What is more, the Q FOUR family can be used to create islands of light in different areas, thus underlining the desired living concept and ensuring a sensation of well-being free from glare.
You must accept Youtube cookies in order to play embedded videos on this site. If you accept these, you will be accessing third party content from YouTube.
Nimbus Privacy Policy
Q FOUR Family Innovation Preview
You must accept Youtube cookies in order to play embedded videos on this site. If you accept these, you will be accessing third party content from YouTube.
Nimbus Privacy Policy
Founder and Managing Director Dietrich F. Brennenstuhl gives exciting insights into the expansion of the Q FOUR family, one of the central innovations in the Nimbus product portfolio 2020.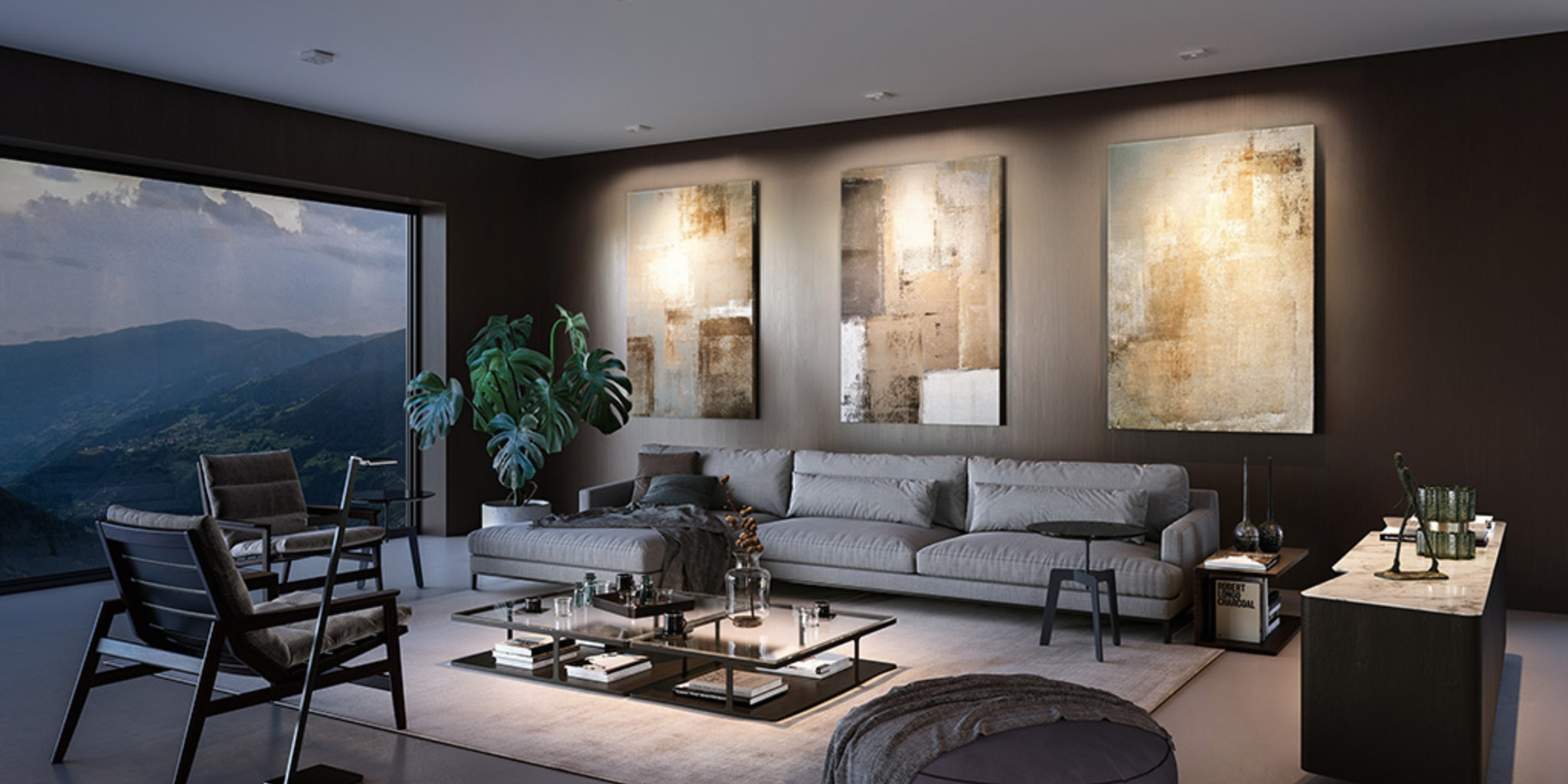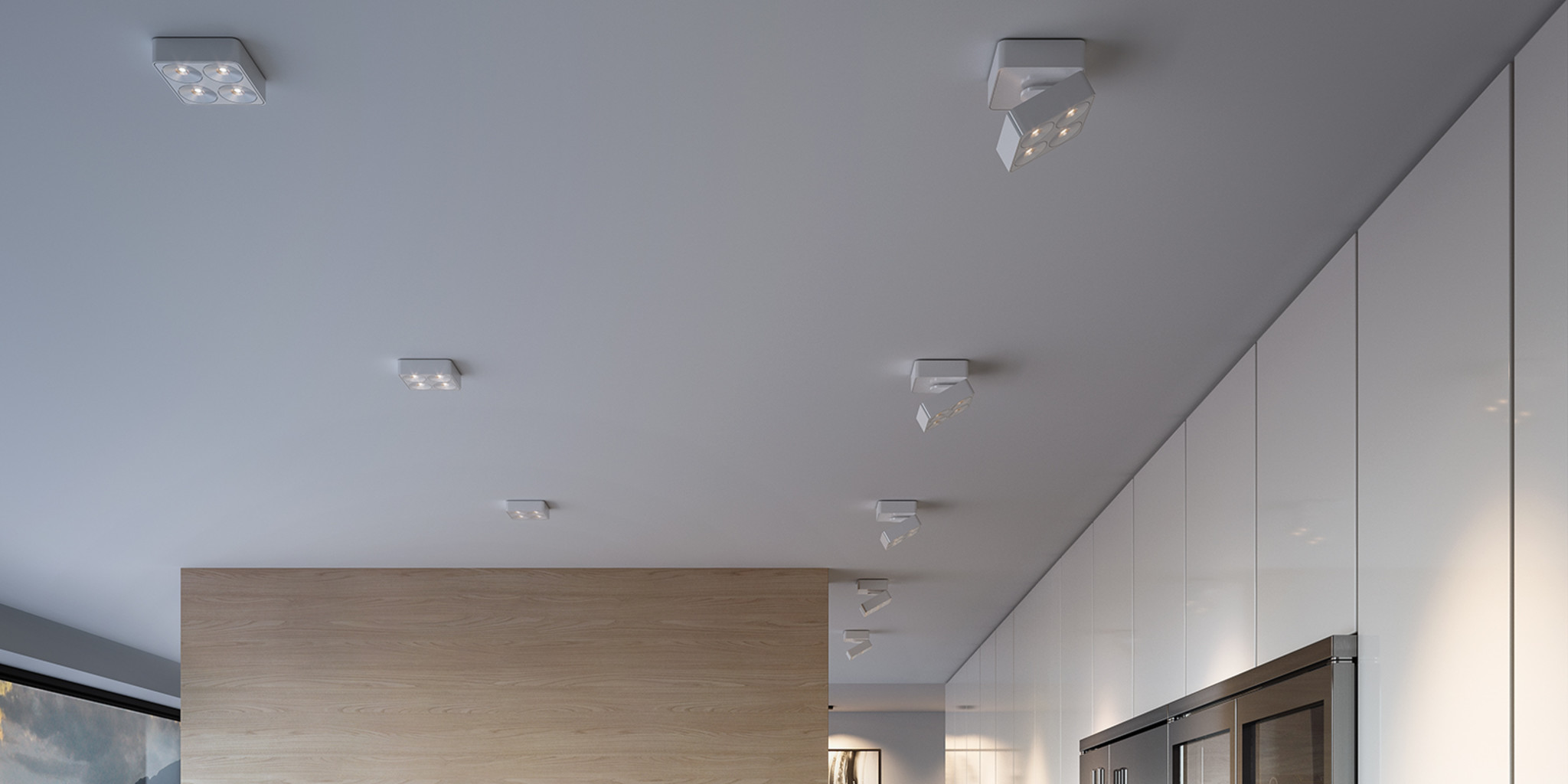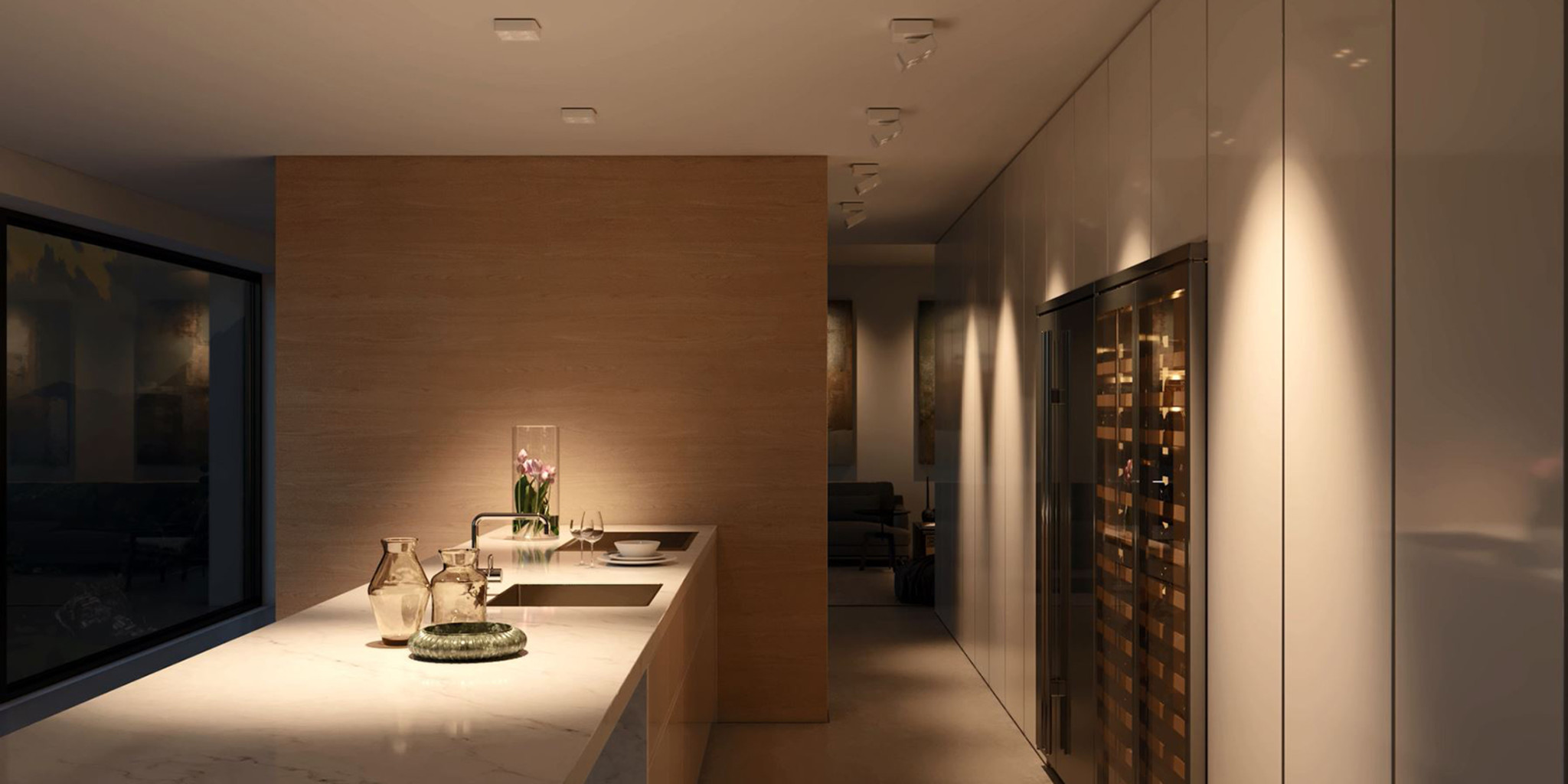 Further information, data sheets and 3D data can be found on the product pages: